So what is this clothing line all about you ask? Rally is a call to arouse for action and action my friends is what the fellas at Rally Hardwear are all about. These dudes have pretty much been rallying there entire lives. MSR starting racing BMX at the age of 12, while Ben g was completely ripping on a tricked out CR 80 in his early years.

As time went on they kept on. Boarding, riding, surfing, music, and most of all PARTYING. Just two fellas trying to get by on the historic North Shore. They knew one another for quite some time and crossed paths on many occasions. One was Ben g, the graphic design daddy who would always be up to some mad creation either on canvas, or on his G3. The other, MSR, the maddog who is down with building sites and all about creating and admiring phat logos. Though the years they conquered many trails, some with the finest northern powder, others with the loose North Shore earth. Board or bike, it was all ways wide open, full tilt, and they were ALWAYS ready to RALLY. Many ideas would be discussed on occasion at the local watering holes. Ben g ventured in projects trying to carve a niche. MSR worked away with hope of someday making it on his own. A day came when they decided it was time to combine forces and contribute to others of their kind. It was time to produce something that would represent their attitude, and what better way then to display it on a piece of clothing.
That my friend is when Rally hardwear was established.

Just two dudes trying to provide some quality gear to other hard-core mo-fo's like themselves, who just want to take it to the hilt and RALLY. God bless America.

So that is the 411 my friends on Rally Hardwear and how it all came about. If you like our goods, feel free to pick something up and spread the word. If not? Well hell, check back anyway for cool info that only the North Shore underground can give you.

Thanks for taking the time to visit this site!

BENG + MSR!

Little Mikey circa 1980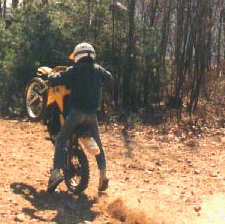 Beng dumpin the clutch oldskool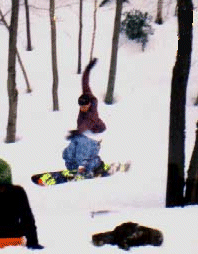 Beng rippin it up circa late 1980's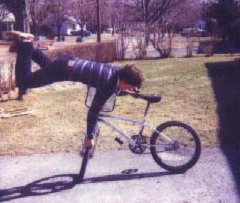 MSR - Handstand action FRO and all